Email Marketing Agency Services For Australian Businesses...
Stop sending average emails to your subscribers and start using a top Australian email marketing agency to help you get more sales and engagement through email marketing that works. 

Most Email Marketing Sucks...
Yours doesn't have to. 
Now you can hire a local Australian email marketing agency that's sent more than 5 million emails on behalf of our clients. 
We've managed email lists larger than 100,000 contacts, and are experienced in advanced segmentation, sequences, and behavioural triggers. 
If you need help getting better results with email marketing in your business, talk to us today. 
Email Marketing Challenges We Help You Solve
If you are struggling with any of the following email marketing challenges, then maybe we can help:
Have a database of contacts but are not making full use of email marketing to engage with them
Small or non existent database and want to grow it so you can reap the rewards of email marketing
Already have a list and are doing email marketing, but know there's room for improvement
Wanting to improve your email marketing strategy and processes to get a better ROI
If any of these challenges sound familiar, then read on for how we can help.
Our Email marketing Industry Experience
Some of the industries we've worked with for email marketing include:
Construction 
Ecommerce
SaaS
Property/Real Estate
Financial Services
IT/Communications
Education
Retirement & Aged Care
How We Help With Your Email marketing
Whether you're starting from scratch, or already have a large list with advanced sequences and triggers in place, we have the expertise to improve any aspect of your email marketing.
Our team can help with:
Email marketing strategy – knowing what, when, and how to email to your database of contacts so that your email strategy aligns with your overall business goals.
Email copywriting – crafting the perfect emails to convert more of your subscribers into customers, and customers into repeat buyers. 
Email design – not all emails need design, but for things like newsletters and ecommerce emails, appearance can help with click-throughs and brand perception. Our team designs your templates and emails so you don't have to be fiddling around in an email tool trying to get an email looking good. 
Email marketing tech set up and management – as official HubSpot and Klaviyo Partners, our team spends a large percentage of our time inside email marketing software, so we can configure everything, segment your database, and press send when the time is right. 
Email list growth – it's important to keep growing your list of email subscribers so you can get a high return on the time and energy going into your email marketing. We can help you create lead magnets and other irresistible offers to keep growing a strong, responsive email list.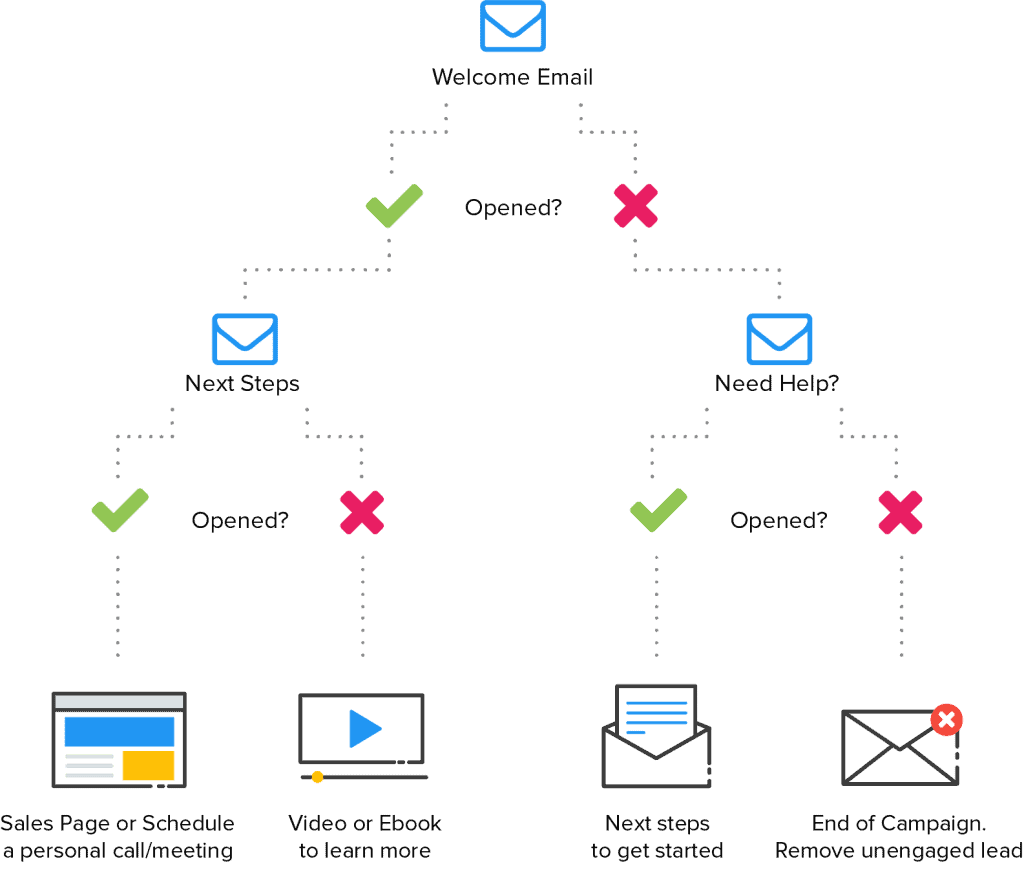 Email Marketing Agency Services
Some of the email marketing services & packages we offer include:
Foundations Package
For businesses with little or no established email marketing system or strategy. Includes:
Strategy workshop

Mapping the buyer journey
Email automation strategy
Broadcast email strategy
Behavioural triggers

Tech set up

Set up email marketing system (usually HubSpot or Klaviyo)
Create templates
Import contacts (including segmentation)

Create email sequences (e.g. welcome, re-engagement, sales, etc.)

Structure sequences (timing and length)
Copywriting of sequences
Creation of sequences inside email software
Specific Sequences & Emails
Depending on what type of business you have, there are several automated email series or one-off emails we can create for you, such as:
Welcome email series for new subscribers (why every business needs one)
Re-engagement campaign (for when people have disengaged with your emails)
Cart abandonment campaign
Sales campaign
Onboarding sequence for new users or customers
Product/service launch campaign 
Product/service update campaign
Post-purchase survey/feedback campaign 
Newsletter or "round up" campaign
Lead nurturing campaign 
New content announcement email 
Event invitation campaign (live event or online webinar/stream)
Internal emails (e.g. notifications within your organisation)
Transactional emails (e.g. completing a purchase, filling in a form)
Audit of Your Existing Email Marketing
For businesses who want help to improve their existing email marketing. Includes:
Review of your existing email marketing strategy, including:

Previous email campaign results
List segmentation options
Current email copy

Review of any automations/sequences
Detailed report with recommendations & priorities
(Optional) Quote & timelines to implement all recommendations
Monthly Ongoing Help With Your Email Marketing
For businesses who need help to keep their email marketing on track, including:
Regular broadcast emails

Planning
Copywriting
Design
Sending

Review/optimisation of sequences
Reporting on campaign results
We have experience working with the following email marketing platforms:
Whether you want to continue using your existing platform, or want advice on the best software for your email marketing needs, get in touch to find out more.
Our Email Marketing Agency Process
How we work with you to help you get the most out of your email marketing strategy:
Initial 30-60 minute chat to see if we're a good fit to work together (tell us about your needs here)
Scope out the project and provide recommendations, pricing, and timelines
Onboarding workshop so we can understand your customers and business goals 
Commence work and deliver agreed upon outcomes
(Optional) Ongoing assistance to manage your email marketing from month to month
What Others Are Saying About Working With Us
"We have a very long sales decision-making time. Damien's come up with smart strategies to target people with the information they needed at the right time in that process. It's been a really good experience from our end. Would recommend Damien and CLCK to anyone thinking about looking at going digital and getting smarter with their marketing." – Chris Barnett, Director, Habitech Systems
"CLCK Digital has been a fantastic support during the development of HubSpot in our organisation. CLCK Digital has been instrumental in helping us understand various features and helping us to get the most out of the product. We really love HubSpot now and continue to get a lot of value out of it."
James Myers, IT & Digital Marketing Manager, Hermitage Homes
"You made me want to buy my own product!
I love what you've done! … After reading your copy I actually wanted to buy it!"
Eric Dieperink, Founder, Cunjabo Academy
"The assistance with automating our sales process was fantastic … I highly recommend Damien and his team to any business owner who wants to achieve higher conversion rates and scale their business." – David Johnson, Super Property Solutions​
"I had the pleasure of working with Damien on a number of web marketing projects at the Barefoot Investor. Damien brought a fresh perspective and professional approach to our team, and he was an absolute pleasure to work with."
Lauren Molan, Chief Writer/Producer, ABC
"After experiencing one disappointment after the other in the online lead generation industry, we were ready to try something new. The CLCK team understood our challenges and got to work quickly.
The results have been amazing. Our Sales team have more than sufficient leads to draw from, sales are increasing beyond target and CLCK work with us as if they are part of our team."
Managing Director, Boutique Home Builder